PLANT CULTURE
Greenhouse
No. of Plants .... 25 to 50 per replication
No. of Reps ...4 replications
Soil Medium .... Autoclaved porous sand/soil mixture
Temp./Light ...Grow plants at 20 to 24°C; 12 to 14 hour photoperiod
Other .........Do not allow plants to be stressed by a water deficit
INOCULUM CULTURE
Source ........Infected stems
Storage........Silica gel beads (4)
Temperature....4° C
Storage Life ..2 to 3 years
INOCULATION PROCEDURE
Greenhouse
Age of Plant ..6 to 8 weeks
Production ....Culture isolates on potato dextrose agar at 21°C, transfer mycelial plugs into Czapek's Dox broth in a 500 mL baffle sided Erlenmeyer flask; flasks are placed on a rotary shaker (120 rpm) at 20 to 23°C for 5 to 7 days
Type of Inoc...Conidia
Concentration .. 1 x 106 conidia per mL of distilled water
Transplant ....Plants are lifted, washed free of excess soil, the roots trimmed to a length of ca. 8 cm, and the stems clipped to a height of 3 cm; plants are completely immersed in a suspension of conidia for 20 minutes, then transplanted into fresh steamed sand/soil mix (1,2) or
Cut Stem ......Plants are inoculated by clipping the stems to 3 cm height with scissors dipped into a conidial suspension (8 X 106 conidia per mL); the scissor is redipped before each clip; spray the freshly cut stems with the inoculum suspension amended with a wetting agent (polyoxyethylene 20 sorbitan monolaurate, 1 mL per L); stems are sprayed to run-off 4 times using a compressed air hand sprayer (3).
INCUBATION
Greenhouse
Culture......Maintain inoculated plants at 20 to 24°C and 12 to 14 hour photoperiod; do not allow plants to be stressed by a water deficit
Age at Eval.: Incubate plants for 4 to 6 weeks
RATING
Plants are evaluated for severity of foliar symptoms.
1 Resistant .. .. No to minimal chlorosis of lower leaves
2 Resistant .. Chlorosis of lower and middle leaves, but no chlorosis or necrosis of terminal leaves
3 Susceptible. . Well developed symptoms of chlorotic, necrotic and twisted terminal leaflets on at least one, but not all main stems
4 Susceptible... Severe symptoms of chlorosis, necrosis, and twisting of all leaflets on all main stems
5 Susceptible ... Plant dead
Alfalfa populations can be characterized for reaction to V. albo-atrum by calculating their mean disease severity index (DSI). Additionally, the percentage of resistant plants (i.e. combined percentage of plants rated as class 1 and 2) can be used to characterize alfalfa populations for reaction to V. albo-atrum.
CHECK CULTIVARS
Approximate Expected Resistance (%)
Acceptable
Range of
Reaction (%)
Resistant
Vertus**
40
30-50
Oneida VR
60
55-65
Susceptible
Saranac**
2
0-5
Values for resistant standards include total of l's and 2's.
DISTRIBUTION AND SEVERITY OF VERTICILLIUM WILT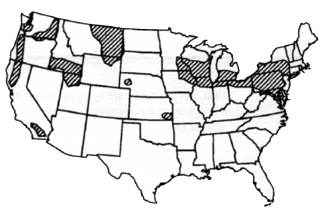 Verticillium Wilt, Verticillium albo-atrum Reinke & Berth.


Click on the map above for a larger version. See also the KEY

SOURCE OF INOCULUM AND SCIENTIST WITH EXPERTISE

Name .....Craig R. Grau

Address ..Department of Plant Pathology
1630 Linden Drive
University of Wisconsin
Madison, WI 53706

Phone ....608-262-6289

CORRELATION TO FIELD REACTION

There is a high correlation between results of this test and disease incidence in field environments.

RACES

Races of V. albo-atrum, alfalfa strain, have not been reported.

PLANT GROWTH OPTIONS AND RANGE OF INCUBATION CONDITIONS

Air temperatures of 20 to 24°C are optimal for expression of foliar symptoms. Air temperatures above 24°C result in less symptom severity. The severity of foliar symptoms can be reduced if plants are subjected to nutrient deficiency and drought stress. It is important to control insects because their feeding damage can alter the expression of foliar symptoms.
FIELD EVALUATION
Alfalfa populations can be evaluated in field environments. Entries are seeded at a rate of 5 g of seed per 4.6 m row and rows are spaced 0.76 m apart. Replicate entries four times in a randomized complete block design. Verticillium albo-atrum can be artificially introduced into plots at the second harvest by spraying the freshly cut alfalfa stubble with a suspension of conidia (8x106 conidia per mL) in the establishment year. Thereafter, plots are monitored for symptoms of Verticillium wilt. Plots are evaluated by counting healthy and diseased plants.
REFERENCES
1. Christen, A. A., and Peaden, R. N. 1981. Verticillium wilt in alfalfa. Plant Dis. 65:319-321.
2. Graham, J. H., Peaden, R. N., and Evans, D. W. 1977. Verticillium wilt of alfalfa found in United States. Plant Dis. Rep. 61:337-340.
3. Ireland, K. F., and Leath, K. T. 1987. Potential of using culture filtrates from Verticillium albo-atrum to evaluate alfalfa germplasm for resistance to Verticillium wilt. Plant Dis. 71:900-903.
4. Smith, D. 1984. Maintenance of fungi. Pages 87-88. In: Maintenance of microorganisms, a manual of laboratory methods. Ed. by Kirsop, B. E., and J. J. S. Snell, Academic Press.